Seminars / CE
Online Courses
Any self-study continuing education (CE) hours to be used for Indiana renewal requirements must include a post-examination.
Under Indiana law, self-study includes live streamed and static online CE courses. To be qualified, CE must be sponsored by an approved organization, such as IOA, COPE, a university, or the program must be specifically approved by the Indiana Optometry Board. The rules of the Indiana Optometry Board allow for a maximum of eight hours of self-study continuing education to be claimed during any two-year license renewal period. The self-study CE waiver in effect during the pandemic expired on June 30, 2021.
---
This course covers the anterior segment complications associated with herpes simplex virus infection. The natural history of the herpes simplex virus and the epidemiology of HSV infections are discussed. Blepharocunjunctivitis, dendritic keratitis, stromal keratitis, endothelitis, trabeculitis, iritis, and neurotrophic keratitis are all covered in detail. Primary disease vs. secondary recurrent disease is stressed. Course Instructor: Brad Sutton, OD
---
This course covers injection techniques utilized by optometrists. Subcutaneous / intralesional, intramuscular, and intravenous injections are covered in detail. Proper sterile preparation techniques are discussed as well. An emphasis is placed upon learning the proper techniques associated with performing various types of injection procedures, and on their clinical uses. The pharmacology of injectable medications is also covered, as are several specific injectables. Course Instructor, Brad Sutton, OD
---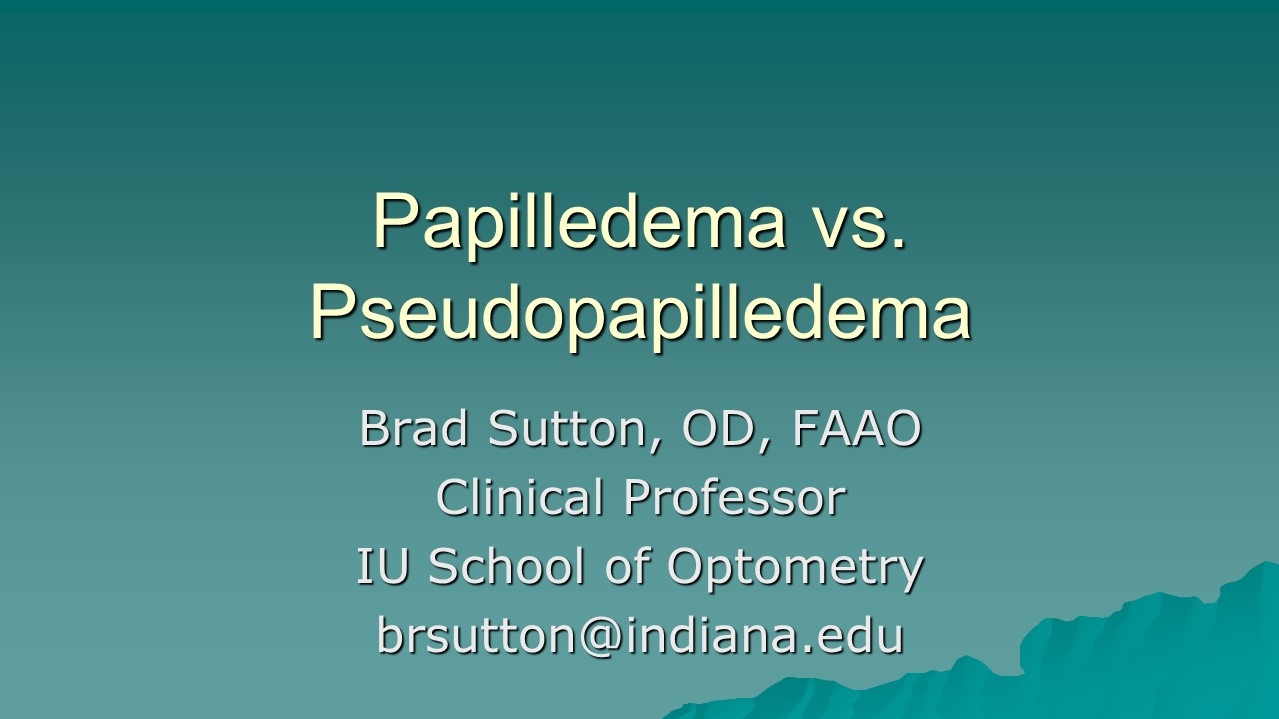 Differentiating true papilledema from pseudopapilledema can be challenging, but the distinction is crucial. Properly making this important differential diagnosis can literally have life and death consequences. This course outlines the mechanisms for clinically distinguishing between the two entities. It covers papilledema and its systemic associations in detail, as well as optic nerve drusen, which is the number one cause of pseudopapilledema. Course Instructor: Brad Sutton, OD
---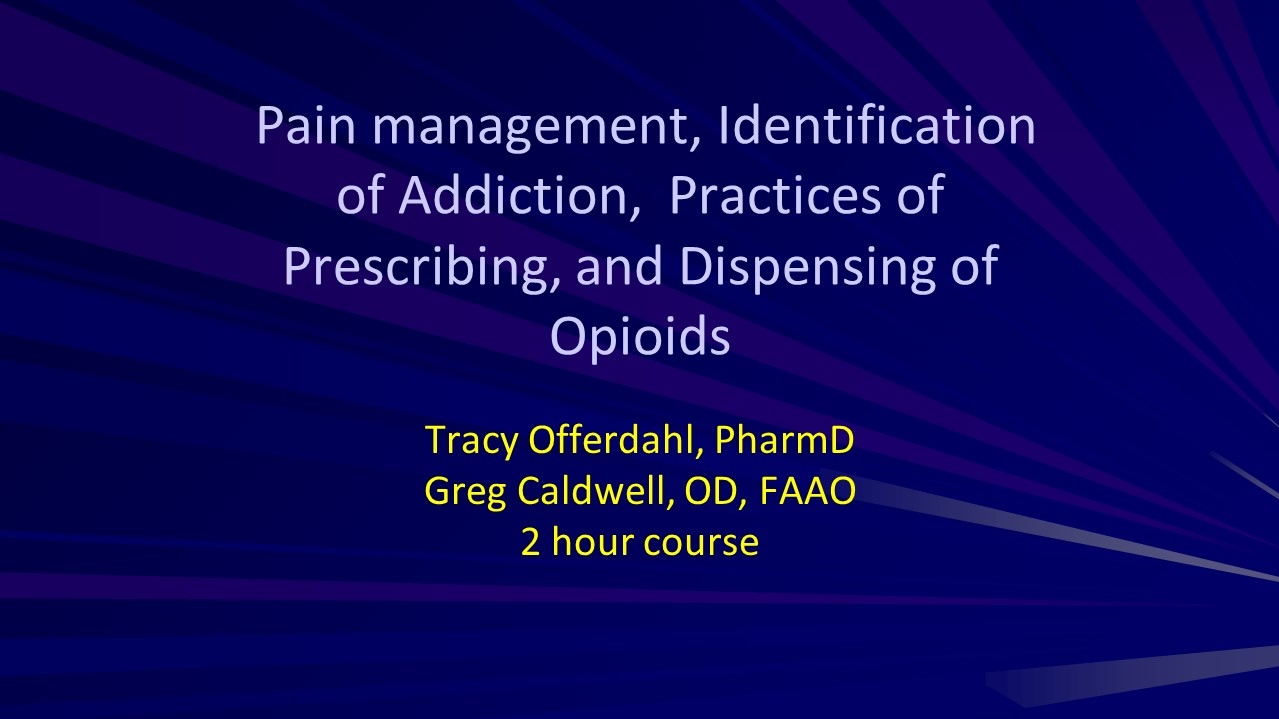 This two hour course meets the April 1, 2022 Indiana renewal requirement that all optometrists who hold or apply for a controlled substances registration after July 1, 2019 must have completed two hours of continuing education during the previous two years addressing the topic of opioid prescribing and opioid abuse. All optometrists may take the course to meet the requirements for Legend Drug Certificate and license renewal. Course Instructors: Greg Caldwell, OD and Tracy Offerdahl, PharmD
---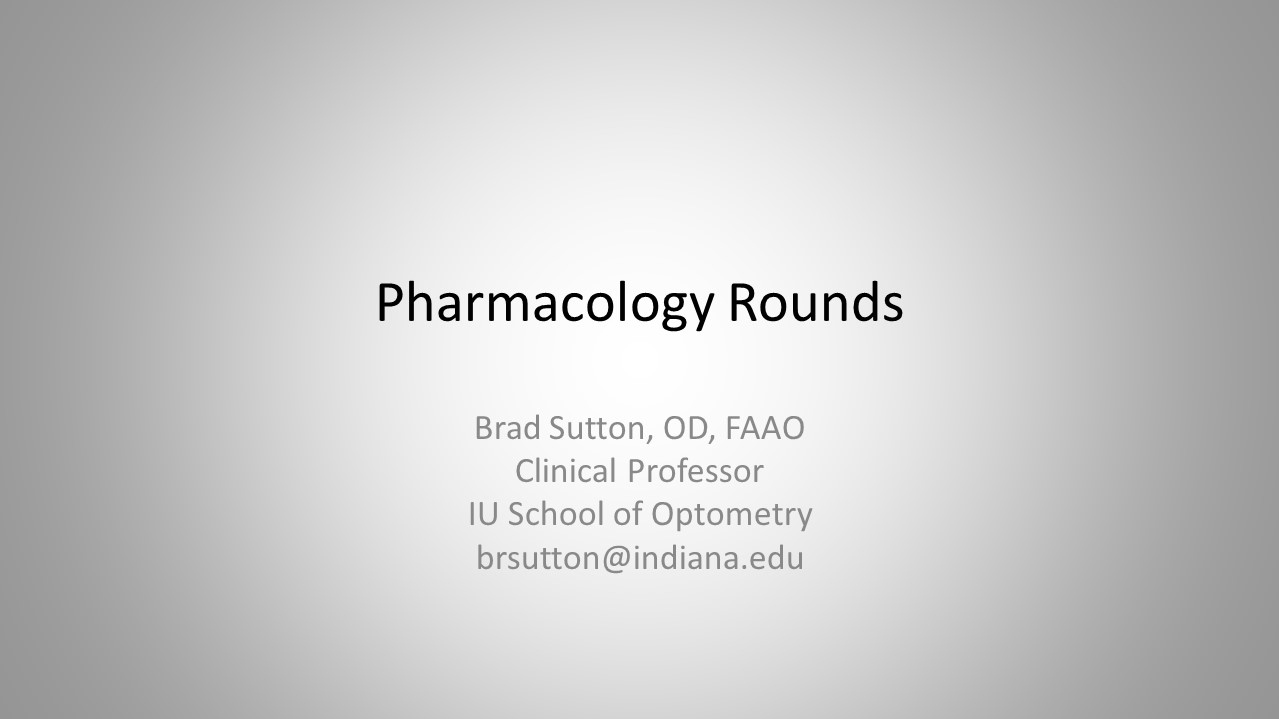 This course covers pharmaceuticals used in eye care, including many classes of topical ophthalmic medications and oral medications with ocular indications for use. It also covers the ocular side effects of many oral medications. Course Instructor: Brad Sutton, OD
---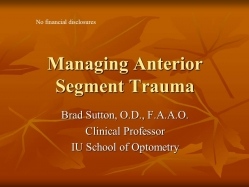 This course covers the diagnosis and management of many different types of anterior segment trauma. The proper assessment and care of conditions such as hyphema, chemical burns, corneal abrasions, foreign bodies, orbital blow out fractures, traumatic iritis, and corneal lacerations are discussed. Course Instructor: Brad Sutton, OD
---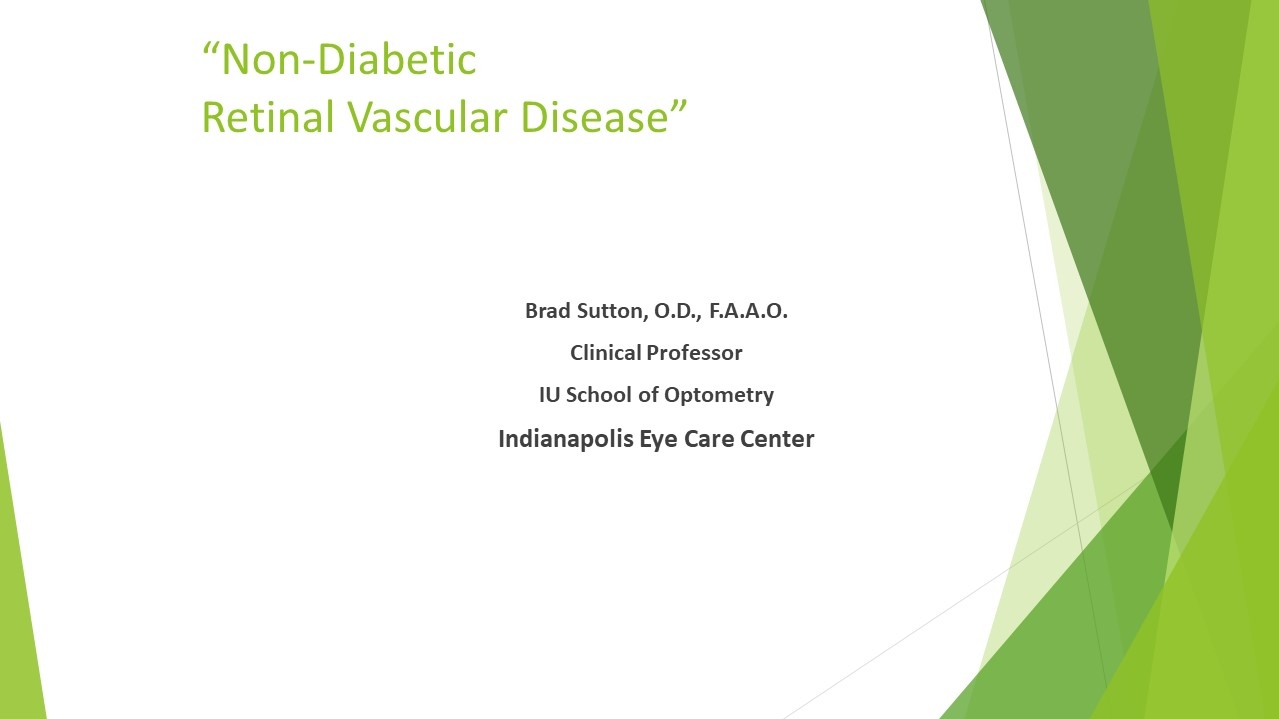 This course covers the diagnosis and management of several non-diabetic retinal vascular diseases. An emphasis is placed on systemic associations as well as clinical management. Conditions covered include ocular ischemic syndrome, hypertensive retinopathy, sickle cell retinopathy, Eale's disease, Coat's disease, retinal artery occlusions, retinal vein occlusions, and others. Course Instructor: Brad Sutton, OD
---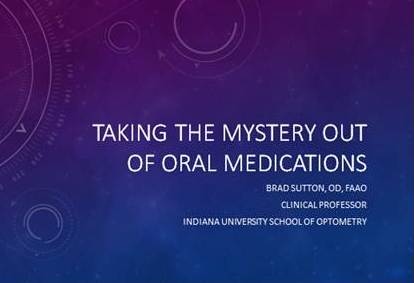 This course covers the common oral medications prescribed by eye care practitioners including antibiotics, antivirals, pain medications and steroids. Emphasis is placed upon both pharmacological principals, and helping OD's to get comfortable with the clinical use and prescribing of each category of medication. Course Instructor: Brad Sutton, OD
---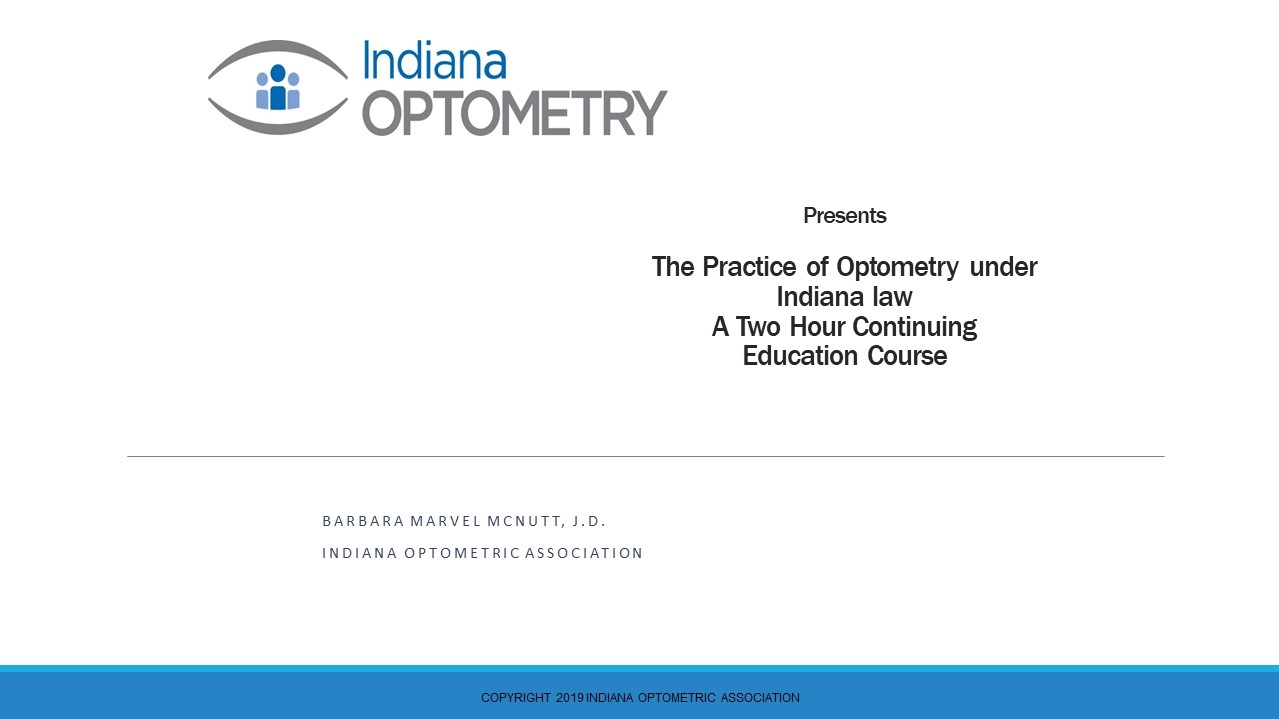 This course qualifies for 2 hours of IOB CE Credit. Indiana OPTOMETRY has prepared this course to help practitioners to meet the requirements for license renewal. This course provides an overview of federal and Indiana statutes and rules that govern the practice of Optometry in Indiana.
---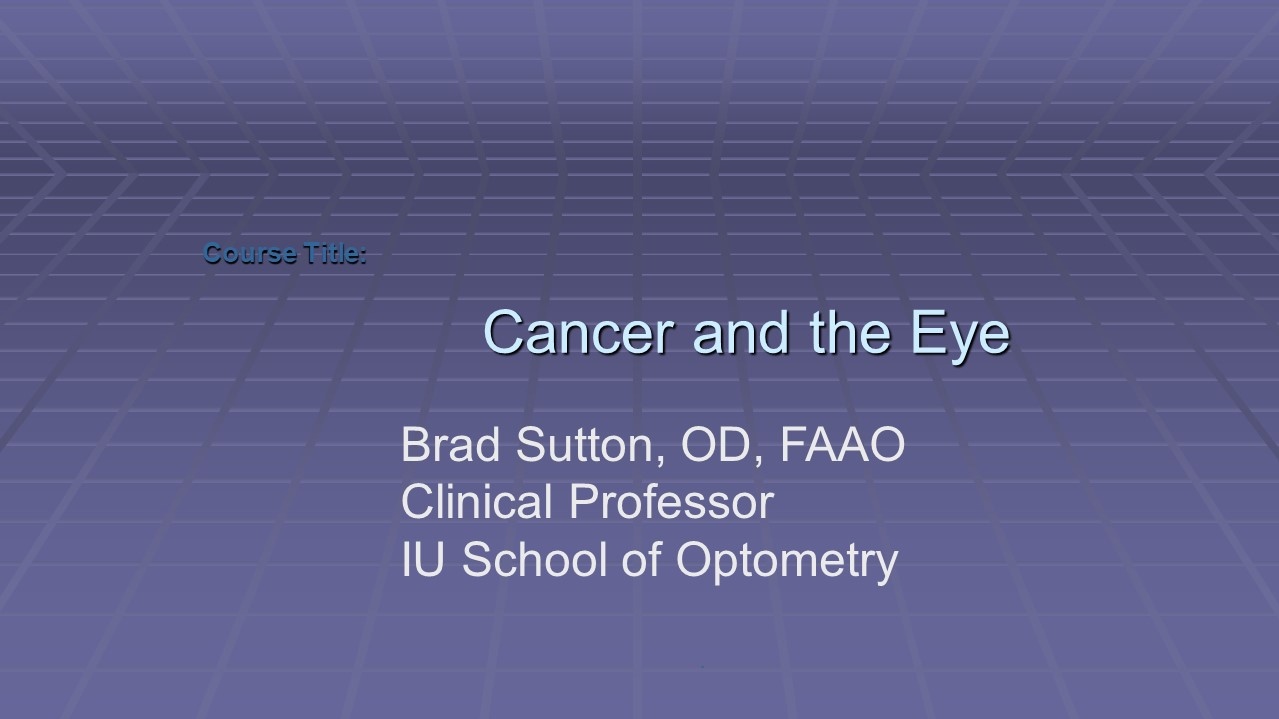 Learn about the epidemiology and principles of systemic cancer, with details about ocular malignancies, including the differential diagnosis and management. Course instructor: Brad Sutton, OD
---