Next Generation of Leaders: Interview with Divya Kamania

Divya Kamania is our most recent scholarship recipient from Embry Riddle Aeronautical University. We interviewed Divya about her experience as an IAWA scholarship recipient and the impact it has had on her life. Divya's story is not only inspiring but it demonstrates IAWA's aim to motivate women to reach their goals, get inspired and lead.




For almost 30 years, IAWA's work has shaped the lives of women in the aviation and aerospace industries, opening doors to new careers, and providing a platform for professional and personal development. IAWA's mission -to cultivate and advance women leaders in the aviation and aerospace industries through a global network- pays special attention to the development of our next generation of leaders, aiming to provide them with opportunities, experiences and learning to ground their flourishment and contribute to the progress of our industry.

Since 2004, IAWA's Scholarship Program has supported women who demonstrate excellent academic performance and have a passion for a career in the field of aviation, to achieve their educational goals by providing financial aid. Current associated universities include: Embry Riddle Aeronautical University, Southern Methodist University, Dedman School of Law, McGill University Graduate School of Air and Space Law, and Vaughn College of Aeronautics and Technology. Since its creation, over 40 young women have benefitted from IAWA's Scholarship Program.
How does the IAWA scholarship impact your ability to complete your education?
The IAWA scholarship provided great financial assistance for completing several graduate level courses for my Master's program. It is difficult to afford quality education and the hardships are more for international students. Therefore, the scholarship was a huge help financially. But more important, it was the motivational support which will continue to have a deep impact on my life – even after completion of my education.
What do you plan to do after finishing school?
I intend to work in the design and manufacturing side of the aerospace industry after finishing school. The journey of the first woman astronaut of Indian origin in space inspired me to pursue a career in aerospace. My ultimate goal is to be a part of a team that revolutionizes the industry of spacecraft design and exploration.
How would you encourage other young women?
By believing in and living my dream, I hope I can inspire other young women do the same. Spreading awareness is necessary to help young women realize their potential, overcome struggles and pursue their dreams. Often, the important issues affecting women are not addressed. I would like to have open discussions about struggles and issues that females face and share different insights to navigate through the problems. As a young woman, I sought guidance from family members, friends, school teachers, professors and bosses. I believe mentor support is extremely beneficial but hard to find. Therefore, I hope to dedicate time to offer similar support to other aspiring young women.
Is there a special experience you've had with an IAWA member?
I have had an amazing experience with everyone at IAWA. I was touched by the level of support and encouragement that was provided from my first email interaction with Kathleen Guilfoyle to my personal interaction with Katherine Staton, Ana Persiani and Alina Nassar. Although I have never personally met Kathleen, I am very appreciative of the time and effort that she took to communicate with me and connect me to other IAWA members. Katherine presented the scholarship award to me at the 2017 Aviation Law and Insurance Symposium and I felt very welcomed by her cordial and humble nature. At the IATA – Wing of Change 2017 event, I had the opportunity to listen to Alina Nassar speak about Preparing the Next Generation of Aviation Leaders. It was great to hear her dialogue about the important issues concerning women in workforce at such a massive platform. As a newcomer in this industry, it is very inspiring and gratifying to witness female leaders paving a strong path for future generations of women. Personal interaction with Alina and Ana at the IAWA luncheon was very uplifting. Their kind words and moral support reassured me that I am on the right path and that I should continue to be myself.It has been amazing to be associated with an organization such as IAWA where people are valued for their skills, talents and aspirations. I look forward to the opportunity of meeting and learning from other wonderful members of IAWA.
Ms. Kamania is currently getting her Master of Science in Aeronautics with specialization in Aerospace Management at Embry Riddle Aeronautical University. She graduated in 2013 with a Bachelor of Science in Aerospace Engineering from the same university. She has been on the Dean's list and is a member of two honor societies, National Society of Collegiate Scholars and Tau Beta Pi. Internship opportunities at Southwest Airlines and Magga Products have provided valuable industry experience to Ms. Kamania's studies. The combination of college education and work experience has led to a position as Quality Engineer at an FAA aircraft repair station. Ms. Kamania aspires to eventually work with aerospace company for spacecraft design and exploration.
---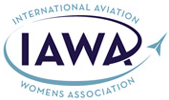 IAWA is a non-profit association providing a worldwide network dedicated to promoting the advancement of women in the aviation and aerospace industries at all levels across the globe. IAWA sponsors informative meetings, hosts receptions and connects, publishes newsletters, and keeps its members updated on the latest industry developments.