Learn about Bobbi Wells, IAWA VP Inspire & Lead

As Vice President of Safety & Airworthiness, Ms. Wells is responsible for the Air Safety, Quality Assurance, Quality Control and Airworthiness Records programs at FedEx Express. Her departments ensure the safety, airworthiness and regulatory compliance of the FedEx Express fleet and air operation worldwide. This includes efficacy in critical processes, such as safety management, safety analytics and air carrier manuals and records systems.


How has your life experience made you the leader you are today?

I grew up in a small town in the mountains of Wyoming. My dad was born there and was a naturally curious person, so he was always willing to try new things and work at them until he mastered them. His tendency towards curiosity encouraged that tendency within me. He taught my sisters, brother and I to ski at an early age and we spent most winter weekends at the ski hill. When I was in my early teens, my dad told me I could really improve my skiing if I pushed myself a bit more every time I was on the mountain. I told him I was fine with my level of skiing and that I didn't want to push more because I'd fall down more. He said, "Bobbi, if you're not falling down, you're not learning." Two big lessons I learned from him were to have the courage to try new things and the perseverance to work at them, even when you fall down. Failing isn't fun, but we learn best when we fail. I've found the most rewarding things are the things that make me uncomfortable and give me the biggest opportunity to grow.

Click here to continue reading.
---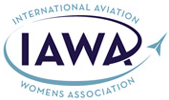 IAWA is a non-profit association providing a worldwide network dedicated to promoting the advancement of women in the aviation and aerospace industries at all levels across the globe. IAWA sponsors informative meetings, hosts receptions and connects, publishes newsletters, and keeps its members updated on the latest industry developments.