Vaughn WAI: The 3rd Annual Powerful Women in Aviation

On April 17th, Vaughn College held a lunch-and-learn program for female students attending aviation and/or engineering high schools in Queens, New York. Sharon Devivo, President of Vaughn College and an IAWA Advisory Board Member attended along with Ellyn Slow, former NetJets executive and IAWA Advisory Board Co-Chair, who was a panelist. Panelists fielded questions about their challenges as women in the aviation industry, as pilots, mechanics or executives and interacted with the students, who were very engaged.
Click here
to see event photos.
---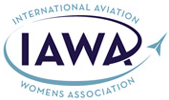 IAWA is a non-profit association providing a worldwide network dedicated to promoting the advancement of women in the aviation and aerospace industries at all levels across the globe. IAWA sponsors informative meetings, hosts receptions and connects, publishes newsletters, and keeps its members updated on the latest industry developments.