IAWA Networking Breakfast at the ALTA Airline Leaders Forum


IAWA and ALTA organized a networking breakfast at the ALTA Airline Leaders Forum in Panama, on October 30. Avianca's Executives Hernan Rincon- CEO; Maria Paula Duque- Senior VP Strategic Relations; and Jose Efromovich- CEO Avianca Brazil; as well as IAWA's President Alina Nassar gave remarks on the importance of bringing diversity into our industry, and promoting women's advancement. Mrs. Angela Orozco, Minister of Transportation of Colombia, and ALTA's Executive Director, Luis Felipe de Oliveira, were also present among other distinguished attendees. Special thanks to ALTA for sponsoring the event, and for its continuous and growing support to IAWA's mission.Click here to view photos from the event.
---

.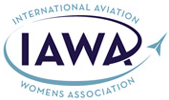 IAWA is a non-profit association providing a worldwide network dedicated to promoting the advancement of women in the aviation and aerospace industries at all levels across the globe. IAWA sponsors informative meetings, hosts receptions and connects, publishes newsletters, and keeps its members updated on the latest industry developments.